73 evenings from May 1st to December 23rd, 2023
THÉÂTRE ANTIQUE D'ORANGE
Rue Madeleine Roch 84100 Orange
IMMERSION IN AN EXTRAORDINARY UNIVERSE
The Ancient Theatre of Orange is a monument like no other, with a 2000-year history of consistent being on the cutting edge of innovation. Just as Ulysees' voyage took him through mystical kingdoms to the furthest reaches of mythology, so you will journey in the Ancient Theatre surrounded by the many sounds and melodies of our world.
Plunged into an ocean of sound and spectacle, you will meet a multitude of gods and mythological characters as you cross fantastical and marvelous landscapes
FIRST EVER AI GENERATED VIDEOMAPPING
In today's world, artificial "intelligences" write, draw, play and calculate, offering the perfect conduit for the creativity and intelligence of the human mind. For Odyssée Sonore, an entire universe has been created inspired by this artificial intelligence. We invite you in to discover the many scenes, forests, plants, shapes, and divine faces of Antiquity.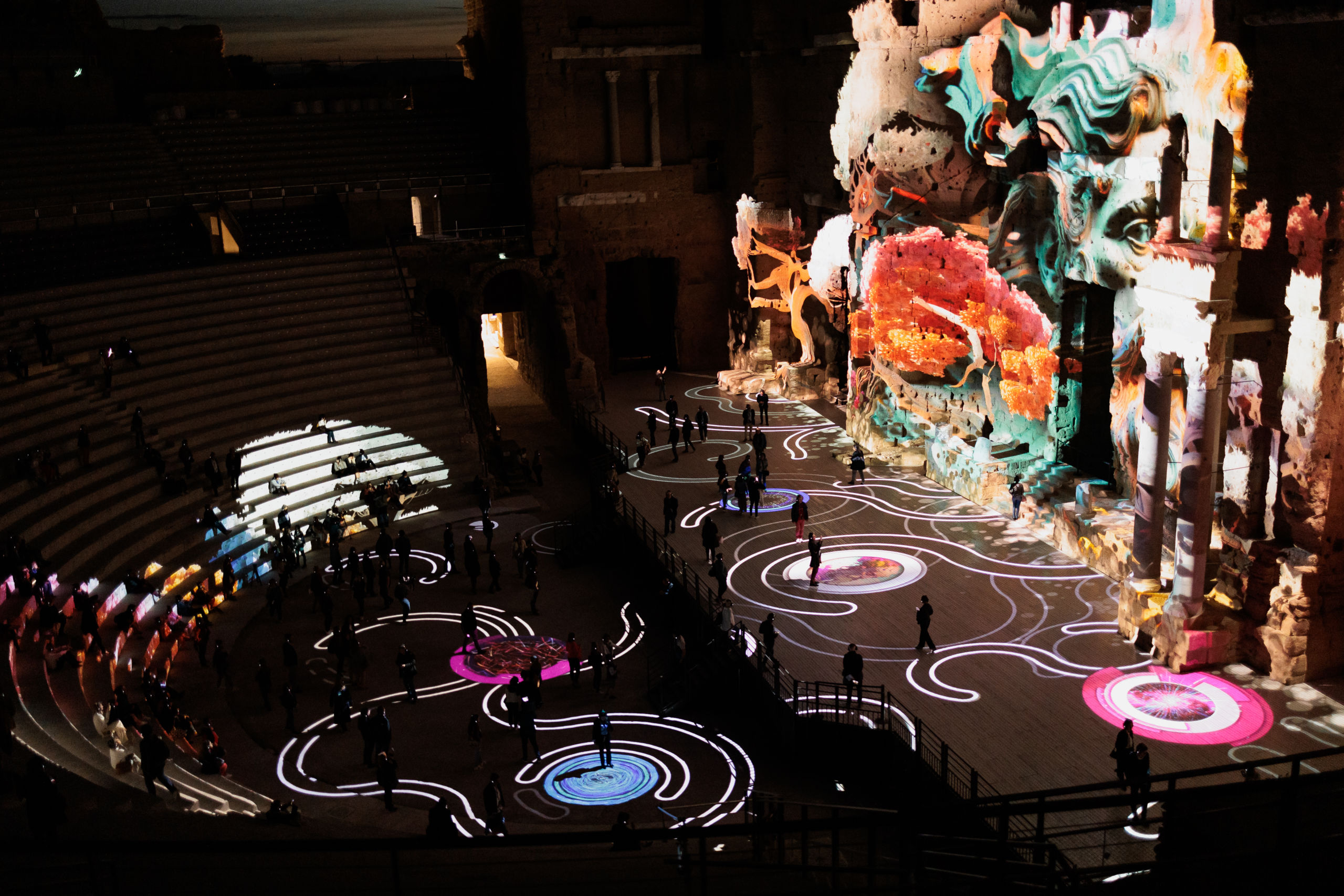 Hear what French TV show Télématin had to say about the new innovative immersive experience of the Théâtre antique d'Orange.
ORANGE, AT THE CUTTING EDGE OF SOUND
WHEN THE PAST RESONATES WITH THE FUTURE
This show is not only innovative, but a spectacular and immersive audio treasure hunt. As you journey through this world, you will discover a multitude of sounds through your high-definition headphones equipped with spatial audio and geolocation technology. The sound adds layers of meaning to the story, enhancing the images and heightening the emotions. By creating new audio journeys and enchanting our audiences using ground-breaking innovative techniques, we become purveyors of emotions and sensations.
All prices are including VAT.
* The combined rate includes the visit to the monuments + the Sound Odyssey Experience
** 7-17 years old, students, unemployed, Pass Éducation cardholders, Orange residents
*** 2 adults + 2 children (7-17 years old)
Dear passengers of the Sound Odyssey, during the immersive experience, please watch your children and be careful of the risk of failing.
An official ID (passport or national ID card) will be required for the loan of the equipment, and returned at the end of the experience.